Posted by Bold Venture Press on Dec 23rd 2019

A former broadcaster at WXYZ documented the station's history, and set the standard for OTR research.
Bold Venture Press has released WYXIE Wonderland by Dick Osgood, the ground-breaking volume documenting the origins of WXYZ Detroit. The book is available in print and electronic editions.
WYXIE Wonderland by Dick Osgood is possibly the first comprehensive exploration into the inner workings of a broadcasting enterprise. Fifty years of national radio and television history, from 1925 to 1975, are reflected in a single station — WXYZ, Detroit — AM, FM and TV.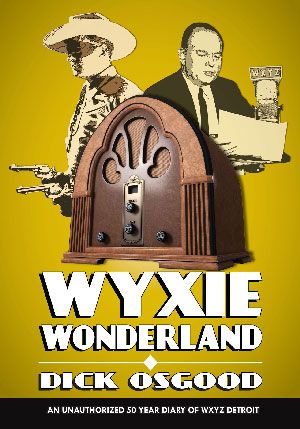 WXYZ was more than just the birthplace of The Lone Ranger, The Green Hornet, and Sgt. Preston of the Yukon. It was the starting point of investigative journalist Mike Wallace, comedian Soupy Sales, actors John Hodiak and Danny Thomas. This extraordinary book traces the beginnings of five networks; the rise and decline of radio network programming. It sees the radio actor replaced by the disc jockey. WYXIE Wonderland explains how the scandal of radio payola grew out of the discovery of rigged TV quiz programs. It tells of a sound created in Texas that revolutionized radio, and how the Top 40 format emerged from a bar in Omaha. WXYZ influenced American culture — and sometimes it was American culture.
Osgood was a veteran employee of the broadcasting powerhouse, and saw much of this history firsthand. WYXIE Wonderland gives names and dates, describing events and conflicts that made the programs a reality. Osgood's text recreates the bygone era, and sometimes strips away the nostalgia, exposing the realities of radio's business end. This book has been out of print for years, and copies command high prices on the collectors' market. Bold Venture Press is proud to make this important work available to fans once more.
WYXIE Wonderland
Print ISBN 978-1976081002
Print edition: Softcover, 442 pages, $29.95
eBook edition: $9.95
The print edition features photographs from Dick Osgood's personal collection not included in the original edition.