Posted by Rich Harvey on Oct 16th 2019
100 years ago today, a pop-culture icon made his pulp-paper debut in the August 9, 1919 issue of All-Story Weekly. Though intended as a one-off novel (judging from the final chapter of The Curse of Capistrano) the swashbuckling Zorro became author Johnston McCulley's signature work.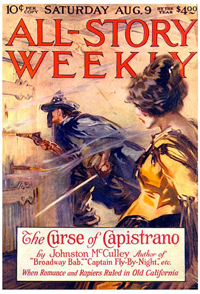 The novel introduced Don Diego Vega, a poetry-spouting dandy who donned mask, cloak and sword to protect Los Angeles citizens from corrupt government officials. Though published in 1919 (and set 100 years earlier in Alta California), Zorro's premise sounds like the basic template for nearly early masked crime-fighter of the 20th Century, from The Green Hornet to Batman and beyond.

His popularity would expand to movies and eventually comic books and television series, much like All-Story Weekly alumni Tarzan. But unlike the works of Edgar Rice Burroughs, McCulley's stories gradually fell out of print. Zorro remained a presence in pop culture, but the original novels and short stories remained out of print and available only in rare magazines like Argosy and West.

That changed in 2016 when Bold Venture Press released volume one of Zorro: The Complete Pulp Adventures. The Curse of Capistrano (a.k.a. The Mark of Zorro) was reprinted along with "Zorro Saves a Friend" and "Zorro Hunts a Jackal". The stories were accompanied by essays by Sandra Curtis and Ed Hulse (who recently announced the revival of Blood 'N Thunder magazine).

The next five volumes featured essays by John E. Petty (author of the forthcoming Robin Hood: Outlaw) and Max Allan Collins (Primal Spillane), among others. A slight delay in publishing caused ripples of concern throughout Zorro fandom ... but Bold Venture released the sixth volume of McCulley stories in late 2017.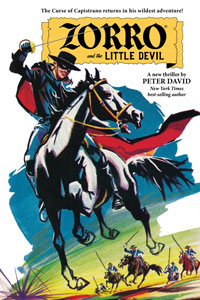 Zorro and the Little Devil, an original novel by Peter David, followed in 2018. Taking place between the events of The Sign of Zorro and "Zorro Draws His Blade," this adventures pits Diego Vega against the sadistic Diabolito, who docks in Los Angeles to steal a hidden fortune.

Zorro continues to carve a path through pop culture in a series of new comic books. Bold Venture Press is preparing an anthology of new Zorro stories by contemporary authors. While you patiently await this thrilling new anthology, check out the Tales of Zorro's Old California series by Johnston McCulley. Even as we write this, the Curse of Capistrano is sharpening his blade for another 100 years of action and adventure.