Posted by Rich Harvey on Oct 16th 2019
The Bloodscreams series comes to print editions at Bold Venture Press.
While tales of horror and supernatural investigators have become commonplace, the Bloodscreams series is one of the forerunners of the genre — and it remains among the best. But his novelist career began, innocently enough, with a tip of the hat to Mark Twain.
"I wrote my first novel at Wells High School, Chicago, IL," says Walker, "an homage to Tom Sawyer and Huck Finn."
While struggling to pen historical fiction, he tapped into his love of fantastic fiction to create a staggering number of novels in several paperback series.
As he began selling fiction, he moved from historical novels to crime and horror, culminating in the "Instinct" and "Edge" series in 1982.
"Writing as Geoffrey Cain, I confess responsibility for Bloodscreams, a horror series. This was followed by my Chicaghosts novella series. My Children of Salem and other adult historical novels are big books! My 80th novel, done for Prospective Press is Under The Dead Man's Hat."
The Abraham Stroud series was originally written under the pen name of Geoffrey Caine, then re-released in eBook format under his true name. Now the series joins the Bold Venture Press imprint in softcover editions.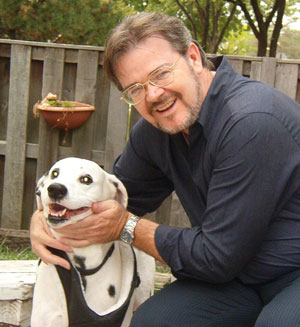 Dr. Abraham Stroud, former Vietnam veteran and Chicago police officer, inherits his deceased granfather's mansion, discovering a treasure trove of medieval objects. Upon exploring the items, and pouring through the family history in bound volumes, Stroud realizes and pursues his dream of becoming an archaeologist.
Upon achieving his goal, however, he discovers the terrible dark side of his new profession. For centuries, the Stroud bloodline have stood between the forces of light and darkness, battling the supernatural forces nibbling at reality's fabric. Now Stroud himself stands in defense of humanity in his preordained life path — taking up the mantle of vampire-slayer.
"I was drawn to stories and films having to do with the unusual, the arcane, the bizarre and curious from Ripley's Believe it or Not to Twilight Zone to Science Fiction Theatre (which dates me). The highly entertaining One Step Beyond was strange and wonderful."
While born in Corinth. MS. I grew up from age four in Chicago, lived many years in Florida and Northern NY, but I currently reside in Hurricane, West Virginia.
Rob has taught writing in all its permutations from composition and developmental to a study of the literary masters to creative and advanced creative writing.
"All writing is creative writing, but not all writing sings."
Learn more about the author at www.RobertWalkerbooks.com and check out the Bloodscreams series at Bold Venture Press..