Posted by Rich Harvey on Dec 30th 2019
"I'm going to represent you," Perry Mason said ...
The Case of the Mischievous Doll;
A Perry Mason mystery;
Erle Stanley Gardner;
Pocket Books edition, November 1964
Perry Mason's client fears she is being positioned as a patsy for another woman's hit & run crime. They look alike, they act alike (sort of, like The Donna Reed Show) ... the resemblance is close enough that Mason begins wondering who he's actually representing. Accompanied by private detective Paul Drake, his investigation takes him all across town picking up leads, and coming within arm's reach of a killer.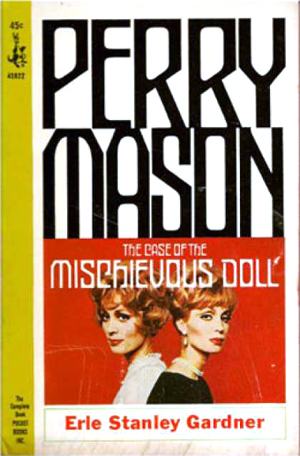 The first and second third of the book represents the legwork and the interviewing. The "third act" consists primarily of the courtroom scene. District Attorney Hamilton Berger filibusters for three pages, essentially recapping all previous plot points, before Mason begins injecting asides and overlooked clues.
It's not difficult to see why Perry Mason's popularity carried over from prose to film. The novels rely heavily on dialogue, and could easily be adapted into televisions scripts. I believe a number of Mason novels were adapted for the series.
The Case of the Mischievous Doll could prove hopelessly confusing for attention deficit readers, as the various plot-threads weave together. Mason and Drake do a splendid job of keeping everything straight in this human shell-game. The author leaves enough clues to play fair with the sharp-eyed reader. I predicted a few plot twists, although I wonder if any reader could guess the all the various subplots. Mason explains everything to Della Street and Paul Drake in the final chapter ... keep your score cards handy.
This novel was originally published (abridged) in 1962 in the Saturday Evening Post. A William Morrow edition appeared in 1963, followed in 1964 by the Pocket Books edition (which I read). Curiously, this novel became a season eight episode of the Perry Mason television series. A viewing of that particular episode, and a comparison between tv show and novel, is inevitable.