Posted by Rich Harvey on Oct 16th 2019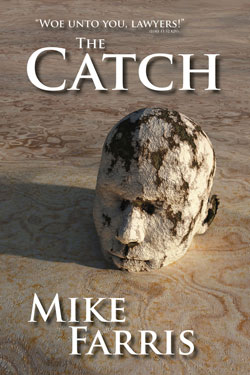 "What do you call 25 attorneys buried up to their chins in cement? Not enough cement!"
The Catch is a new mystery-thriller combining police forensics with the legal system's strangling red-tape. Mike Farris, a veteran attorney, presents a tale where Biblical quotes mark the violent ends of various attorneys.
Lawyer jokes were flying when Detective Ed Hathcox finished law school, hoping to join the FBI. The humor dried up when a serial killer targeted attorneys and crime scenes mirrored the gruesome punchlines. Aside from their profession, what tied the murders together? Their specialties? Political connections? Something worse?
Farris graduated 1983 cum laude graduate at Texas Tech University School of Law. Now retired, his practice in Dallas included commercial litigation as well as entertainment law, focusing on the movie and publishing industries. He was lead counsel for the plaintiff in what has become known as the "Fifty Shades of Grey" lawsuit, which resulted in a plaintiff's judgment in excess of $13.2 million. He examined the details behind the case in collaboration with his client in Fifty Shades of Black and White: Anatomy of the Lawsuit Behind a Publishing Phenomenon (2018).
An author of fiction and nonfiction, Farris has seven published novels to his credit. He is A/V rated by Martindale-Hubbell.
The Catch by Mike Farris
ISBN: 9781082715440; $12.95 SC; $3.99 eBook