Posted by Rich Harvey on Oct 16th 2019
Eight decades ago, a mystery novel in Argosy magazine launched the career of "Hugh Pentecost," and opened a window onto Lieutenant Luke Bradley's career.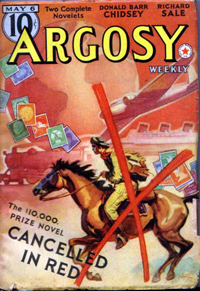 Cancelled in Red began in the Argosy issue of May 6, 1939. The magazine was a weekly presence on newsstands for nearly 75 years. The novel was serialized in the issues dated May 6, May 13, May 20, May 27, and June 3.
An unscrupulous, high-end stamp broker is murdered in his business office. Suspicion falls upon several colorful collectors and dealers. Rival stamp dealer Larry Storm takes an interest in the case, especially the high society woman swindled by the deceased Max Adrian. Storm's amateur investigation is disrupted by the arrival of NYPD Lieutenant Luke Bradley, a soft-spoken homicide investigator with a hair-trigger temper, and Sergeant Rube Snyder.
The magazine publication coincided with the Dodd, Mead & Company edition, but Argosy presented a heavily edited (and revised) version. The novel was reprinted in Triple Detective Fall 1949 (Best Publications, Inc.), but the "Expertly Abridged" version deletes much of the charm from Pentecost's prose. The Bold Venture Press edition (2016) uses the proper text from the Dodd, Mead edition.
In their review of the Bold Venture Press edition, Publishers Weekly wrote: "First published in 1939, this reissue marks the debut of NYPD Insp. Luke Bradley. A formulaic whodunit set in the stamp collecting world ... many readers will enjoy this installment and want to seek out Pentecost's other works."
"The Wingless Wonder" by Judson P. Philips accompanied the conclusion of Cancelled in Red in Argosy. The timing was ironically appropriate, since Pentecost was actually a pseudonym for Philips. Cancelled in Red was "Hugh Pentecost's" first pulp rodeo, but Philips was a seasoned pulp author. He debuted in Detective Fiction Weekly in 1924, where he chronicled the exploits of The Park Avenue Hunt Club. By 1938, Pentecost was riding high in the pulp fiction field, but he knew greater sums of money awaited in the posh, slick-paper magazines.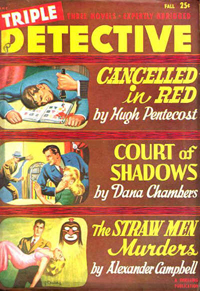 At his agent's suggestion, Philips created the pen name to circumvent his pulp fiction pigeon-hole. The ploy worked and by 1950 he was producing new mystery and suspense fiction under both names for slick magazines and paperback originals.
An interesting sidenote: Philips dedicated the book to his friend Spencer Anderson, a prominent stamp broker on Nassau Street (like Larry Storm, the novel's protagonist). Anderson had sold a block of four "Inverted Jenny" stamps to a wealthy widow, Ethel McCoy, in the 1930s. Years later, life imitated art when the upside-down misprints were stolen while on display at a 1955 American Philatelists Society convention.
The life and career of Judson P. Philips (and Hugh Pentecost) was the subject of Once a Pulp Man by Audrey Parente (Bold Venture Press, 2016).
The "Luke Bradley" novels are available in print and eBook from Bold Venture Press. Purchase Cancelled in Red today and wish "Hugh Pentecost" a happy anniversary!
The Luke Bradley series:
Once a Pulp Man: The Secret Life of Judson P. Philips as Hugh Pentecost by Audrey Parente