Posted by R. Allen Leider on Oct 16th 2019
When I developed the Sherlock Holmes-themed issue of Awesome Tales, my intention was to pen a story featuring Holmes in the old western United States of America, a locale where he hadn't previously appeared. By placing him and his trusted companion Dr. John D. Watson in Tombstone, Arizona, I could also pair them with legendary gunslingers like Wyatt Earp and Bat Masterson. But I could also complete an unfulfilled dream and a long-standing favor ...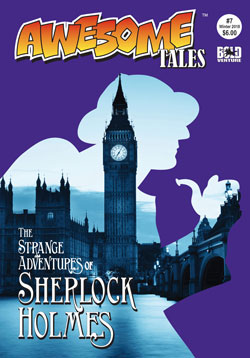 Sir Arthur Conan Doyle's creation — the inscrutable detective Sherlock Holmes — is perhaps the world's most famous fictional detective. "A Study in Scarlet," his debut, was originally published in Beeton's Christmas Annual for 1887. Shortly afterward, Doyle continued Holmes' adventures in the The Strand Magazine.
Acknowledged as a "consulting detective," Holmes is proficient in forensic science. His observational powers and logical reasoning border on the fantastic. In this respect, he predates The Shadow and Batman by five decades.
Sherlock Holmes may be the original "multi-media" character. Guinness World Records lists Holmes as the "most portrayed movie character" in history.
Casting Peter Cushing in 1959's The Hound of the Baskervilles, with its supernatural overtones was a masterstroke. Cushing was famous for roles in popular British horror films. He portrayed Holmes in several more feature films and a 1964-68 British tv series.
I always admired him as an actor. During a memorable trip to London in the early 1970's, visiting movie sets, we became friends and pen pals.
I arranged for him to come to New York and promote Asylum (1972). Over dinner at Manhattan's legendary restaurant, The Cattleman, he gushed about westerns. He loved that genre and always wanted to appear in a western film.
He never did. He passed away before I could pen a short story and screen treatment for him.
"The Wild West Witch" is the result of that wish — Doyle's puzzling crimes blended with British supernatural intrigue. I hope Peter Cushing reads this somewhere and enjoys it.